Museum Adjacent at Finishing Concepts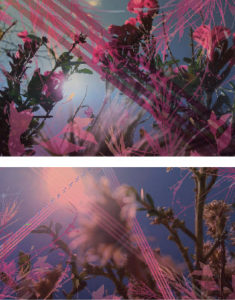 Featuring artists from all disciplines, Museum Adjacent presents their first group show at the gallery at Finishing Concepts with an opening reception on September 21st, 2019, 7-10 pm.
A collective formed through Torrance Art Museum FORUM program, Museum Adjacent is a group of like minded artists working tangential to, but outside of traditional art world institutions.
Each member will present work representative of their practice, highlighting both their collaborative efforts and distinct practices. On view from September 21st, 2019 – October 18th, 2019.
Generational Aesthetics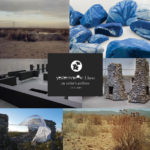 Exploring how artists of different generations define and challenge formal and conceptual ideas in their practice, Generational Aesthetics brings together artists working in the same technical or conceptual elements to showcase how they produce completely different outcomes. Co-curated by Hagop Najarian and members of the Torrance Art Museum FORUM II cohort, the show will include an updated educational archive of artists from Yestermorrow: Llano on Saturday, August 10, 2019 from 6-9 pm at the Cerritos College Art Department.
As a continuous survey of site-specific art practice in Los Angeles, the cohort members of TAM Forum 2 have launched satellite spaces throughout the Los Angeles area in preparation for our collective museum exhibition scheduled for December 7th, 2019 at the Torrance Art Museum.
1+2=Forum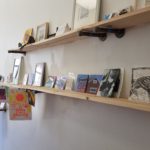 As a continuous survey of site-specific art practice in Los Angeles, the cohort members of TAM Forum 2 have launched a pilot of satellite spaces throughout the Los Angeles area. 1+2=Forum is a pop-up show at the Little Tokyo Arts Complex AMAX Gallery in collaboration with the Downtown Art Walk to display and sell postcard format paintings or smaller objects from members of the first and second TAM FORUM cohorts. Funding received from this programming will be used for the collective museum exhibition and catalogue scheduled for December 7th, 2019 at the Torrance Art Museum.
The Gathering @ Bravery Brewing
"The Gathering" celebrated a collaboration between Bravery Brewing in partnership with Sagebrush Cafe and Art Gallery. It embraced appreciation for the artistic side of the Antelope Valley with an exhibition of local artists, live music from Black Eye Affair and My Sistine Chapel, and Open Mic with Chelle Marie. The special release of an amber colored German Lager, traditionally served in the month of May, is infused with Rooibos red tea from Africa with notes of oak & vanilla. Curated by Brian Avery.
Torrance Art Museum FORUM 2019

TAM FORUM 2019 is a 10-month mentorship residency for artists, curators, gallerists, and writers culminating with a December exhibition at the Torrance Art Museum. In its second year, FORUM 2019 participants include: Henderson Blumer, Kim Garcia, Kim Marra, Larissa Nickel, Jen Vanegas Rocha, Molly Schulman, Joshua Vasquez, H. Leslie Foster II, Sharon Levy, Hagop Najarian, Dakota Noot, Devion Law & Joshua Ross, Christina Shurts, and Sergio Witrön.
FORUM: noun: forum; plural noun: forums; plural noun: fora
1. a place, meeting, or medium where ideas and views on a particular issue can be exchanged.
Maiden LA: Yestermorrow: Llano A Feminist Geography of Place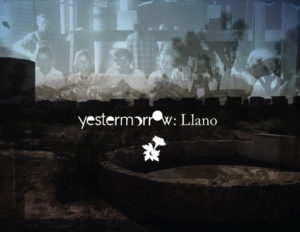 The rural Los Angeles County desert region of Llano, California has historically been defined by innovative people willing to explore and define a new sense of place. Yestermorrow: Llano introduces the past, present, and futures of Llano including its relationship to the Antelope Valley, Los Angeles, California, and their own—yestermorrows.
Yestermorrow: Llano- A Feminist Geography of Place is a third space project without traditional spatial forms intended to research and discover place through feminist digital and sensory engagement. Llano is a geographic place in the Los Angeles county high desert region, however visitors are participating in this project through digital embodiment and not physical access which is situated on private lands, and not open to the public.
Maiden LA is an inclusive and expansive county-wide survey of art happenings that in encouraging the use of alternative spaces, considers the city as a platform for generative discourse and exchange. Maiden LA is an egalitarian program aiming to dissolve hierarchies by including artists, collectives, curators, galleries, museums, et cetera. Maiden LA's relevance is amplified in today's political climate, as our ethos is one that eschews corporate backing and is accessible to artists who find it difficult to navigate the art world's various social and fiscal constructs.
Hot Off the Presses: Yestermorrow: Llano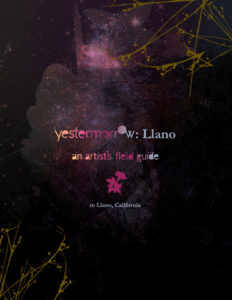 The Antelope Valley Artist Outpost continues with the release of Yestermorrow: Llano—An Artist's Field Guide to Llano, California.
Artist Larissa Nickel explores the rich cultural history of Llano through her project Yestermorrow: Llano that includes a digital PDF publication with map, photography, graphic design, renderings, and links to resources on Llano.
Nickel also created a print collateral piece featuring her wallpaper design based on the Crows of Pearblossom written by Aldous Huxley when he lived in Llano, and New Llano Utopography which is an architectural speculative design game based on Alice Constance Austin's feminist city plan for Llano del Rio.
Yestermorrow is a platform for cultural innovation and public engagement created by Antelope Valley artist, educator, and curator Larissa Nickel. It explores feminist geography through site specific research, historical and futuristic narratives, and the museum as artistic practice to activate a heterotopian mirror space for creative intervention and discourse that encourages participatory experiences of place.
This project is supported by the Los Angeles County Arts Commission and the Antelope Valley Arts Outpost creative placemaking initiative funded by the National Endowment for the Arts and the California Arts Council with support from Metabolic Studio.
The Los Angeles Press: Volume Zero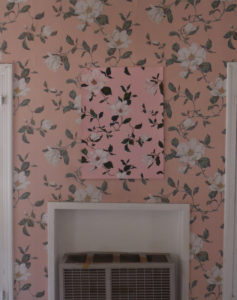 The Los Angeles Press, a Print and Online Publishing House & Imprint introduced by The Los Angeles Review of Books and the LARB/USC Publishing Cohort, is devoted to community engagement, and to the pursuit of social, economic, and environmental justice. Committed to uplifting and focusing on Voices Yet Heard, including Women, POC, LGBTQ+, and traditionally under-represented and marginalized artists and writers, the Los Angeles Press publishes the best in emerging art, literature, and political discourse, from Southern California and the West.
Featured in the current issue Volume Zero issue are: Mikeas Sanchez, (trans. David Shook), Bernadette McComish, Ambar Osorio, Stacy Kadomasu, Ali Lange, Claressinka Anderson , Arminé Iknadossian, Marina Osthoff Magalhães, Chelsea Rector (print edition) and Larissa Nickel's Rockhaven Sanitarium photo essay.
Yestermorrow Llano: An Artist's Field Guide to Llano, California
Special Release Event:
Saturday, July 7th, 2018 from 10 am-noon at Blue Sky's Bistro 12822 Pearblossom Hwy, Pearblossom, CA 93553.
The rural Los Angeles County high desert region of Llano, California has historically been defined by innovative people willing to explore and define a new sense of place. Yestermorrow Llano: An Artist's Field Guide to Llano, California introduces the past, present, and future narratives of Llano including its relationship to the local, regional, and global contexts of place—and their own yestermorrows.
Throughout the feminist geography field guide are cultural references, historical clippings, an artist's archive, educational prompts, and collaborative activities to activate your sensory and artistic experiences of Llano. Create perfume, form a book club, make a recipe, or discover, map, architect, and construct your looking glass connection to the high desert by envisioning a geographic imagination and aesthetic experience of place through Llano's cultural memory, collective present, and social futures.
Visitors at this special release event can stop by the courtyard at Blue Sky's Bistro to receive a free contemporary wallpaper design of Aldous Huxley's Crows of Pearblossom, discover more about Llano, including its sights, sounds, tastes, and smells, and play a speculative design game of New Llano utopography to reveal the futures of your own experimental utopian communities.
Yestermorrow Llano is supported by the Los Angeles County Arts Commission and the Antelope Valley Arts Outpost creative placemaking initiative funded by the National Endowment for the Arts and the California Arts Council with support from Metabolic Studio. Outpost partners include: the Otis College of Art and Design MFA Public Practice program (Otis), the Lancaster Museum of Art and History (MOAH), the Greater Antelope Valley Economic Alliance (GAVEA), the Department of Regional Planning, and the Office of 5th District Supervisor Kathryn Barger.
Yestermorrow is a platform for cultural innovation and collective public engagement designed by Larissa Nickel to present new museological and archival perspectives to our past, present, heterotopian, and future experiences of place.
a.k.a. Public Opinion with Shana Lutker at Susanne Vielmetter Los Angeles Projects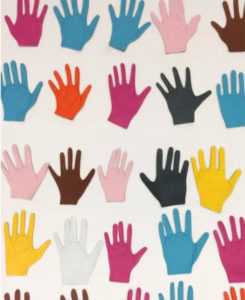 a.k.a. Public Opinion  – is a large installation at Susan Vielmetter with Los Angeles based artist Shana Lutker and the fifth chapter of her ongoing series, Le "NEW" Monocle: The History of the Fistfights of the Surrealists. More than 300 over-sized leather gloves, each dedicated to an artist in Los Angeles, started with a call to participate in the project by asking artists to contribute a tracing of their hand. The gloves are arranged alphabetically and each artist is identified by a stamp of his or her initials. Lutker's colorful gloves are not meant to be worn and suggest that good humor and the support of one's peers might be powerful weapons in fights with ideological and intellectual stakes.
Artists represented in a.k.a. Public Opinion: Scoli Acosta, Nick Aguayo, Brody Albert, Andy Alexander, Mark Allen, Tom Allen, Basma Alsharif, Kevin Appel, Carmen Argote, Joshua Aster, Jason Bailer Losh, Claire Anna Baker, John Baldessari, Judie Bamber, Ray Barrie, Michaela Bathrick, Jeff Beall, Whitney Bedford, Jesse Benson, Scott Benzel, Stephen Berens, David Berezin, Ellen Birrell, Jennifer Bolande, Andrea Bowers, Kristen Bradford, Johanna Breiding, Anna Breininger, Brian Bress, Tanya Brodsky, Kaucyila Brooke, Henriëtte Brouwers, Elizabeth Bryant, Nancy Buchanan, Jedediah Caesar, Sarah Cain, Kristin Calabrese, Ingrid Calame, Joshua Callaghan, Lilli Carre, Michael Carter, Carolyn Castaño, Simion Cernica, Carol Cheh, Young Chung, Poppy Coles, Sarah Conaway, Ginny Cook, Heather Cook, Miles Coolidge, Mario Correa, Kate Costello, Eileen Cowin, Zoe Crosher, Sydney Croskery, Nathan Danilowicz, Phil Davis, Corazon Delsol, Jacci Denhartog, Travis Diehl, Eli Diner, Tomory Dodge, Michael Dopp, Robert Doran, Barbara Drucker, Dana Duff, Sean Duffy, Karen Dunbar, Sam Durant, David P Earle, Don Edler, Alyse Emdur, Nancy Evans, Kirsten Everberg, Krista Feld, Patricia Fernandez, John Finneran, Luke Fischbeck, Jaye Fishel, Nick Fisher, Peter Flaherty, Magnus Flowers, Corey Fogel, Bella Foster, Andrea Fraser, Heather Frazer-Smith, Erik Frydenborg, Victoria Fu, Amy Garofano, Bia Gayotto, Sonja Gerdes, Liz Glynn, Sayre Gomez, Valerie Green, Brigitte Nicole Grice, Katie Grinnan, Karl Haendel, Julia Haft-Candell, Mark Hagen, Yaron Hakim, Lia Halloran, Leila Hamidi, Michelle Handel, Kevin Hanley, Ross Hansen, Jenalee Harmon, Michael Hayden, Tanya Hayden, Drew Heitzler, Nick Herman, Roger Herman, Brennan Hill, EJ Hill, Yarrow Earth Hock, Julian Hoeber, Joel Holmberg, Violet Hopkins, David Horvitz, John Houck, Pearl Hsiung, Bettina Hubby, Melissa Huddleston, Hanna Hur, Bridget Jacobs, Kristin Beinner James, Chris James, Elaine Jen, Kathleen Johnson, Kysa Johnson, Matt Johnson, Vishal Jugdeo, Steve Kado, Stanya Kahn, Chris Kallmyer, William Kaminski, Farrah Karapetian, Jake Kean Mayman, Mary Kelly, Michael Kennedy Costa, Dorna Khazeni, Dwyer Kilcollin, Kathleen Kim, Soo Kim, Rebecca Kolsrud, Alice Könitz, Joey Kotting, Olga Koumoundouros, Nick Kramer, Christopher Kreiling, Jason Kunke, Natalie Labriola, Jacqueline Laurita Cortese, Mimi Lauter, Jon Leaver, Sophie Lee, Anthony Lepore, Dan Levenson, Janet Levy, Karen Liebowitz, Candice Lin, Galia Linn, Matt Lipps, Hailey Loman, Andrea Longacre White, Benjamin Lord, Shana Lutker, Lauren Mackler, Erica Mahinay, Monica Majoli, Michael Mandiberg, Marisa Mandler, Elana Mann, Elana Mann, Natalie Marie Byrne, Christina Catherine Martinez, T.Kelly Mason, Emily Mast, David Matorin, Tyler Matthew Oyer, Anna Mayer, Thomas Mcdonell, Rodney McMillian, Nick McPhail, Daniel Mendel-Black, Joshua Miller, Adam Miller, Allison Miller, Nicole Miller, Yunhee Min, Nour Mobarak, Dianna Molzan, Simone Montemurno, Rebecca Morris, Erin Morrison, Ragen Moss, Megan Mueller, Carter Mull, Warren Neidich, Davida Nemeroff, Claire Nereim, Larissa Nickel, Patrick Nickell, Jennifer Nocon, D'ette Nogle, Yann Novak, Deirdre O'Dwyer, Kathryn O'Halloran, Brian O'Donnell, Alison O'Daniel, Alex Olson, Catherine Opie, Julie Orser, Gina Osterloh, Mamiko Otsubo, Laura Owens, Carlye Packer, Rachel Paprocki, Michael Parker, Jessica Parker Valentine, Jane Parshall, Galeria Perdida, Alex Perliter, Paul Pescador, Renée Petropoulos, Gala Porras-Kim, Ali Prosch, Noam Rappaport, Sarah Rara, Heather Rasmussen, Brian Ratcliffe, Diana Relth, Isaac Resnikoff, Joanna Reynolds, Matt Rich, Marco Rios, Christy Roberts-Berkowitz, Mark Rodriguez, Mark Roeder, Rachelle Rojany, Juliana Romano, Amanda Ross-Ho, Evelena Ruether, Miljohn Ruperto, Amy Russell, Ben Russell, Robert Russell, Kathleen Ryan, Erica Ryan Stallones, Analia Saban, Stephanie Sabo, Yoshie Sakai, Connie Samaras, Lauren Satlowski, Anna Schachte, Asha Schechter, Marty Schnapf, Kim Schoen, Kim Schoenstadt, Betsy Lin Seder, Paul Sepuya, Katie Shapiro, Brian Sharp, Leslie Shows, Corrie Siegal, Matt Siegle, Susan Silton, Brook Sinkinson Withrow, Utah Snyder, Patrick Staff, Cammie Staros, A.L. Steiner, Leroy Stevens, Mateo Tannatt, Victoria Tao, Ethan Tate, Stephanie Taylor, Mungo Thomson, Clarissa Tossin, Cody Trepte, Kerry Tribe, Lia Trinka-Browner, Devon Tsuno, Jason Underhill, Tran Van Tam, Lesley Vance, Keith Vardi, Valerie Veator, Mark Verabioff, Bob Vieira, Anuradha Vikram, Shanna Waddell, Christine Wang, Margaret Wappler, RJ Ward, Dawson Weber, Dana Weiser, Daniel Wheeler, Flora Wiegmann, Brica Wilcox, Robert Wilhite, Jesse Willenbring, Karen Lee Williams, Lisa Williamson, Andrew Norman Wilson, Carlin Wing, Rosten Woo, Jonas Wood, Aaron Wrinkle, Peter Wu, Tucker Wulf, Jemima Wyman, Xin Xin, Rosha Yaghmai, Bedros Yeretzian, Jenny Yurshansky, Jody Zellen.
Recombinant Museum in the Journal of Aesthetics and Protest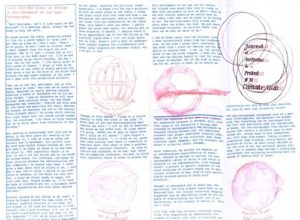 The Journal of Aesthetics and Protest Issue 10 Climate Atlas centers around the concept of a non-map. It's a non-cartography of what's meaningful in the time of climate change. Climate Change will sensibly rearrange everything. In that way, there is no map. On the fact of a changing climate, this issue overlooks the discourse, measurements, judgments of the anthropocene, capitalocene, chuthulucene, etc. Rather, its curatorial work begins by squarely encountering the necessary reorganization of life's relationality suggested by what will be undone and remade in this scenario. No map, only a key and points of interests. The issue contains 5 essays by Paula Cobo-Guevara, Amber Hickey, Mauvais Troupe, Brett Bloom, Rachel O'Reilly & Danny Butt and is available online and also for purchase in a print. The issue's form, when folded, appears as a map, though there are none within.
Place is a Character at Rockhaven Sanitarium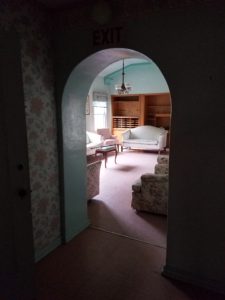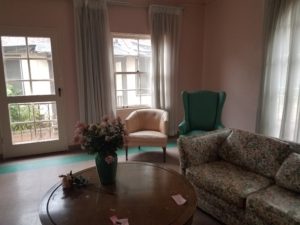 The Rockhaven Sanitarium was opened in 1923 by psychiatric nurse Agnes Richards for women with "mild mental and nervous disorders." Having worked in state run insane asylums, Richards set out to create a haven where women could be treated with dignity and grace in a beautiful and serene environment. The Friends of Rockhaven are working with artists and donors to help educate the public on the importance of Rockhaven and to help the city of Glendale restore the property, and develop a museum.
"Place is a Character" on July 15, 2017 brought together New Works from Subtle Inquiries based on research created during earlier site visits at the Rockhaven Sanitarium. Curated by Linda Ravenswood with support from the Friends of Rockhaven "Place is a Character" included works by Elisabeth Houston, Larissa Nickel, Linda Ravenswood, Chelsea Rector, and Ang Wilson. Listen to audio of interviews from the Friends courtesy of Our Prime Property.
Yestermorrow: Llano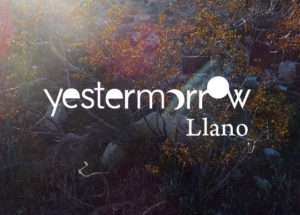 Yestermorrow: Llano explores the history, current state and speculative future of the high desert unincorporated region of Llano, California. Curated through an artist's lens, Yestermorrow: Llano weaves together the past tales of the Llano del Rio Cooperative Colony, a current archive of Llano artists including David Hockney, Bella Lewitzky, Gregory Ain, and Mary Ellen Mark, and the sophisticated thinking from the desert hinterlands regarding society, technology, politics, economics, and sustainability. Alternatively situated as a creative research laboratory, the cultural values and innovations from the overlooked places and narratives of sites such as Llano serve as a looking glass reflection for Los Angeles—and its own yestermorrow.
Yestermorrow: Llano is supported by the Los Angeles County Arts Commission and the high desert desert Antelope Valley Arts Outpost creative placemaking initiative  funded by the National Endowment for the Arts and the California Arts Council with support from Metabolic Studio. Outpost partners include: the Otis College of Art and Design MFA Public Practice program (Otis), the Lancaster Museum of Art and History (MOAH), the Greater Antelope Valley Economic Alliance (GAVEA), the Department of Regional Planning, and the Office of Supervisor Kathryn Barger.
About Yestermorrow
Yestermorrow is an artistic museological platform for cultural innovation and public engagement created by artist and curator Larissa Nickel. It explores site specific research, narratives and the museum as ephemeral space to activate heterotopias for creative intervention and discourse.
Hinterculture @ the FAR Bazaar

Hinterculture artists Larissa Nickel, Stacey Charles Spiegel, and Jones Intercable transformed a faculty office at Cerritos College into Obvious Answers to Impossible Futures which featured a special performance of No Wrong Notes No Wrong People with the Dr. Eddie "Snakepit" Edwards (Berkeley, Los Angeles, Antelope Valley) Acoustic, Electronic, and Amplisonic sounds and Steven Fiche (Antelope Valley, Los Angeles, Chicago) Formulating, Infrasonic, Catalytic-cycles for Habitat Elucidation who performed a series of live desert-to-space soundscapes from multiple points in time and technology using a variety of synthesizers, horns and percussion instruments.
About the FAR Bazaar
2017 marks the fortieth anniversary of the Foundation for Art Resources (FAR), one of the oldest non-profit arts advocacy groups in Southern California. FAR helped to produce some of the most significant alternative art events in Los Angeles. To honor this major milestone of 40 years, FAR is collaborating with Cerritos College to host its biggest FAR Bazaar event ever. Cerritos College, with the help of FAR, will transform every abandoned classroom, faculty office, and administrative space into temporary exhibition spaces, each to be guest-curated by local art collectives and alternative art spaces, as well as the graduate programs from regional universities and art schools.
January is the month for the region's major commercial art (af)fairs, in particular the Los Angeles Art Show and Art Los Angeles Contemporary. The FAR BAZAAR, as non-commercial alternative art fair, highlights the significant contribution that art collectives, artist-run spaces, and local art schools have on the regional art scene overall. Much like the art fairs provide access to disparate commercial galleries from across the globe, the FAR BAZAAR will allow the various art communities that are physically spread far and wide across the megalopolis of Southern California to come together temporarily in one place for easy access and for productive exchange.
Participating collectives include: Adjunct Positions, Association of Hysteric Curators, Ave 50 Studio, Biomythography, Boys of Summer, Concrete Walls Projects, D-Block Projects, DH Arts Collective, Disposable Collective, Durden & Ray, Elephant, FA4 Collective, Finishing School, Hinterculture, Improvised Alchemy, JAUS Gallery, KCHUNG, LA Freewaves, Machine Project, Monte Vista Projects, Motherboy, Rough Play, SASSAS, Shed Research, Sixpack Projects, Slanguage Studios, South Bay Contemporary, Summercamp's ProjectProject, and Tilt-Export.
Participating MFA programs include: Art Center, CalArts, Claremont Graduate University, Otis (Public Practice and Fine Arts), UC Irvine (Fine Arts and Critical/Curatorial Studies) UC Los Angeles (Design Media Arts and Fine Arts), UC Riverside, and University of Southern California.
Alternative Art Fair & Art Collective Festival at the FAR Bazaar:
https://www.facebook.com/events/1179715782075632/
Nasty Women Art Exhibition
In solidarity among artists who identify with being a Nasty Woman in the face of threats to roll back women's rights, individual rights, and abortion rights, the Nasty Women Art Exhibitions originated in Queens, New York, and spread across the country. The exhibition serves as a fundraiser to support organizations defending these rights and to be a platform for organization before the Trump Presidential Inauguration in January, 2017.
AV Arts Outpost Commission

Larissa Nickel evaluated artist sustainability for the LA County Arts Commission and the high desert Antelope Valley Arts Outpost creative placemaking initiative that supported regional vitality through artist-driven projects. Outpost partners include: the Otis College of Art and Design MFA Public Practice program (Otis), the Lancaster Museum of Art and History (MOAH), the Greater Antelope Valley Economic Alliance (GAVEA), the Department of Regional Planning, and the Office of Supervisor Michael D. Antonovich. Managed by the Los Angeles County Arts Commission, Outpost dovetails with the development of the Antelope Valley General Plan and will inform the direction for each community. The project is funded by the National Endowment for the Arts and the California Arts Council with support from Metabolic Studio.
MAIDEN LA
MAIDEN LA, a county-wide network of LA-based 'happenings' taking place throughout the month of August 2016.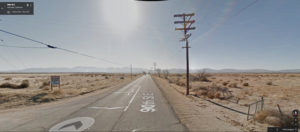 Commencing August 1, 2016, Maiden LA, in its very first iteration, will connect over 130 artists, collectives and organizations, highlighting Los Angeles as a vastly extensive and vibrant community. The incredibly diverse event list ranges from web-based projects and performances to open studios, exhibitions, and public installations, as far reaching as the Antelope Valley and San Pedro. Some artists have opened up their private residences while others have taken to the streets or parks. All events submitted by July 15th are included on a printed map and downloadable PDF, while all events submitted through July 31st will continue to be listed on the web-based directory and calendar. You can download the PDF here or visit the Maiden LA website, which offers a user-friendly and comprehensive event map and calendar. The information will also be available on Curate LA's web-based directory and downloadable app.
Maiden LA was created and organized by two Los Angeles-based artists, Molly Schulman and Salomeh Grace. Using the Hammer Museum's biennial as a jumping off point, Maiden LA  (a playful anagram and homophone of 'Made in LA') stemmed from a desire to connect LA based artists, organizations and their respective communities, while bringing attention to the number of artist run initiatives throughout the city. The collaborative duo was interested in the concept of a Los Angeles survey as being one that considered the city as a platform for generative discourse and exchange, and one that would encourage unrealized projects to take form.
Support for Maiden LA is provided by Common Field, a national network of experimental and non-commercial contemporary art spaces and projects. Maiden LA would like to thank all participants for contributing a range of compelling projects. A special thanks goes to Common Field, Velaslavasay Panorama, and Curate LA for their valued support.
Free Painting
by Constance Mallinson
It was painting that led the Modernist charge in challenging bourgeois values with radical aesthetic shifts nearly every decade. In the current market driven art climate, it is difficult to imagine the outrage that artists from Impressionism to Abstract Expressionism once provoked. The dissident, uncompromising, and subversive nature that once characterized Modernist art has been abandoned in favor of the thriving speculative, neo liberal $64 billion economy of the contemporary art world. Traditionally identified with "luxury objects," painting is particularly implicated in schemes of global wealth accumulation as demonstrated in 2010 when a 1932 Picasso sold for a record breaking $106.5 million while a 2014 sale of Andy Warhol's Eight Elvises (1962) topped $100 million.
Critics bemoan the marginality of their role with the consensus that few qualitative choices are made outside the dealer/collector system. From Robert Hughes' Art and Money, Julian Stallabrass's Art Incorporated, and Raphael Rubenstein's compendium of essays, Critical Mess, to Robert Morgan's The End of the Art World, writers have denounced the market's hegemony with its lack of critical significance. In the 1980's, during the uptick in the art market, critics like Douglas Crimp condemned paintings as fetishized commodities incapable of promoting societal change as readily as photography, video, or installations. Painters seemed unconcerned with this perceived loss of socially relevant content as the most marketed and successful among them, often their art school professors, soared to previously unimagined prices thereby serving as role models for younger hopefuls. Today, with exorbitant student loans, the high cost of maintaining a studio in any large urban area, and the Darwinian state of competition for exhibitions, a near total acquiescence to art market forces seems inevitable for painting.As a painter with a 40 year practice that began with Minimalism and Feminist art — both movements wedded to the belief that critical art discourse was paramount to accessing new art and that a long, thoughtful, and committed career was sought and respected — I question the symbiosis between painting and the art market and its distorting control over the perception and placement of painting without the preliminary, often slow, rigorous analysis of an artwork's meaning or effect, its context or history.
To examine this relationship, I conducted an experimental project at the Armory Center for the Arts in Pasadena in the fall of 2105 with curator Sinead Finnerty Pyne. Entitled "Free Painting", the multi-disciplinary project involved an exhibition, performance, and archival video with the stated aim of validating painting and assigning ownership outside the current market or gallery systems. We hoped questions might be posed about the possibility of assessing a painting's value by looking intensely at the work and then discussing why and how it was conceived, what it meant to the specific viewer, and why and for whom he/she desired it. The conversations would explore what criteria are used to qualify painting and how that discourse is framed, whether private ownership should be the only form of distribution for painting and what alternatives — such as collective ownership in a classroom — could arise.  Lacking embeddedness with market values, could such changes and exchanges encourage and engage unforeseen content and critical issues. Would the intentions of the artist carry more or less weight? Would diverse placements and focused dialog expand the possibilities for interpretation and relevance to viewers? Is it even realistic or desirable to abandon the current system in favor of the alienating characteristics that defined Modernist avant gardism? What would be accomplished?
Full article on Radical Actions: from Teaching Artists to Social Practice- http://www.radicalactions.com/#!constance-mallinson/cbg1
Antelope Valley Art Outpost
Antelope Valley Art Outposts (Outpost) is a creative placemaking project that supports regional vitality through innovative, artist-driven projects in the LA County unincorporated communities of Littlerock and Sun Village. Outpost is a cross-sector partnership where artists work alongside residents and community stakeholders to develop projects and programs. Outpost partners include: the Otis College of Art and Design MFA Public Practice program (Otis), the Lancaster Museum of Art and History (MOAH), the Greater Antelope Valley Economic Alliance (GAVEA), the Department of Regional Planning, and the Office of Supervisor Michael D. Antonovich.
Managed by the Los Angeles County Arts Commission, Outpost dovetails with the development of the Antelope Valley General Plan and will inform the direction for each community. The project is funded by the National Endowment for the Arts and the California Arts Council with support from Metabolic Studio. Further information is available at: http://lacountyarts.org/outpost
What does a day in our community look like? REAL93543 IN A DAY is a documentary about life in the Antelope Valley, created by Antelope Valley Art Outpost artist-in-residence, Robin Rosenthal and numerous community partners. The project is an homage to the Littlerock zip code and was designed to engage residents in discussions about place through documentary filmmaking.
The City of Los Angeles Department of Cultural Affairs' Skin Exhibition at the 
Los Angeles Municipal Art Gallery
Opening Reception
Sunday, February 7, 2 – 5 PM
On view February 7 to April 17, 2016 at the
Los Angeles Municipal Art Gallery
4800 Hollywood Blvd.
Los Angeles, CA 90027
The election of President Obama in 2008 and re-election in 2012 marked the emergence of a new period in race relations and identity politics in the United States. One in which significant advancements underscore deeper, more persistent ruptures in the skin that binds us as Americans. President Obama, from a multiracial family, represented the most potent and singular figure for the progress made by the civil rights movement, multiculturalism, and identity politics from the previous decades. Some even argued that his election marked the moment of post-racism in the country's history. And yet, since election, numerous racialized incidents have occurred that tell a different story. The exhibition SKIN brings thirty-six artists whose work is timely and engaged in many ways with these broader debates. The gallery acts as a discursive space where these disparate conversations can have a platform, and where further productive work and reflection on these topics can proceed.
Several artists in the exhibition share an interest in the role language plays in reproducing racial hierarchies, such as Kathie Foley-Meyer, Margaret Noble, Larissa Nickel, and April Bey. Read the full exhibition statement here
Featured Artists: Geordy Zodidat Alexis, James Berson, April Bey, Maura Brewer, Ben Caldwell, Bryan Rodriguez Cambana, Audrey Chan, Christopher Christion, Holly Crawford, Ken Gonzales-Day, Fabian Debora, Cole M. James, Camella DaEun Kim, Zeal Harris, Malisa Humphrey, Farrah Karapetian, Ann Le, Nery Gabriel Lemus, Derrick Maddox, Michael Massenburg, Kathie Foley-Meyer, Larissa Nickel, Margaret Noble, Duane Paul, Linda Ravenswood, Megan Reed, Kaitlynn Redell, Bruce Richards, Sandy Rodriguez,  Daniel Rothman, Yoshie Sakai, Cauleen Smith, Gabriel Sosa, Holly Tempo, Kara Walker and Jessica Wimbley.
Free Painting
Constance Mallinson's Free Painting at the Armory Center for the Arts concludes a nine-part, nineteen-month series exploring the expanded field of painting. Free Painting was conceived as an experiment to investigate the perception and acquisition of painting outside the current art market by which the gallery and museum system defines access to artworks. Removing money from the equation, an exhibited painting entitled "Raft" by Constance Mallinson was given away after interviews with ten selected applicants of diverse backgrounds who had submitted an online application to receive the painting for free.  Over the course of two days, Mallinson met with these individuals and conversed about what the painting meant to them as well as its possible destination. The participants included an inner-city public arts magnet teacher, an architect, an administrative judge, a breast cancer surgeon, a representative of an Iraq war veteran, a number of acclaimed Los Angeles artists, and a collector chef.
In the end, Mallinson turned over the final decision about who should receive the painting to a panel of art professionals including a critic, two art historians, a gallerist, a curator and two artists. These six individuals met to discuss the interviews and debate ideas of ownership, appreciation of the actual painting, and appropriate placement.  The exhibited video, which replaces the painting formerly on view, documents the process.
Opulent Mobility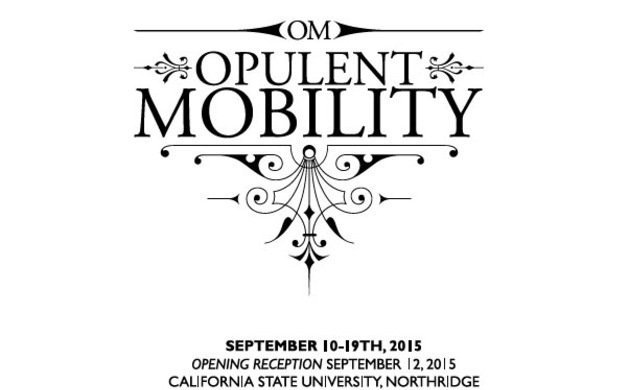 Wheelchairs, walkers, prosthetics, crutches and other assistive technology devices are part of our lives, but they've been left in the dust when it comes to custom design innovation and personalization. There are hundreds of thousands of designs for glasses, chairs and technology of other kinds. Why not assistive technology? Opulent Mobility is a groundbreaking international exhibit of art, designs and inventions dealing with disability, mobility and accessibility. The show runs from September 9-19th, 2015 at California State University, Northridge.
Green Leadership Awards Finalists 2014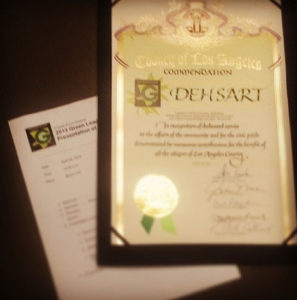 The offices of Supervisor Don Knabe, Board Chairman, and William T Fujioka, Chief Executive Officer, recently sponsored a reception to honor the 2014 finalists of the County's Green Leadership Awards (GLA). Supervisor Zev Yaroslavsky and former Supervisor Yvonne Burke introduced the motion to create the annual GLA program, which recognizes outstanding achievement in protecting the environment. GLA categories and the finalists/projects were Business, Duvivier Architects, "Integrating Water/Architecture;" NonProfit, Food Forward, "Distribution of Farmers Market Produce to the Hungry;" Resident, Larissa Nickel and Karyl Newman, "DEHSART: Antelope Valley Illegal Dumping EcoArt;" and L.A. County Department, Public Social Services, "Toy Loan Recycling Initiative."
Volley at Greene Exhibitions
Thursday, November 7, 2013 7 pm
Dear Comrade
Written and directed by CalArts faculty member Mady Schutzman, "Dear Comrade" is an experimental essay film that documents the story of Llano del Rio (1914-18), the most important non-religious communitarian experiment in western American history. Llano is offered as a site to explore the struggles, courage, frustrations, fantasies, and Sisyphean efforts of innumerable idealists who have assumed comparable struggles in spite of tremendous odds. The story is told through archival footage, surreal re-enactments, interviews with ex-colonists, local residents and historians, and the meanderings of a silent nomad through the ruins of the Llano colony in the Mojave Desert. Through the intersection of stories, a seemingly traditional documentary morphs into a montage of parallel universes, political commentary, clownery, and a palpable desire—failings and disappointments notwithstanding—to give idealism and cooperation another try. Karyl Newman, Larissa Nickel, and Cindy Rehm will present their research on the colony and join the filmmaker in a question and answer segment following the screening.
Forêt Intérieure/Interior Forest
ForYourArt hosted a fundraiser for artist Alexandra Grant's Interior Forest project. Tree drawings by over 100 artists were included in the preview exhibition and priced at $250.
Host committee: Janine Arbelaez, Adelaide Barbier, Nancy Berman, Leonardo Bravo, Juan Devis, Charlotte Eyerman, Jessica Fleischmann, Eugénie Frémiot, Miguel Hernandez, Marla Koosed, Bettina Korek, Isabelle Le Normand, Robert Nashak, Yann Perreau, Alma Ruiz, Roberto Sheinberg, Pilar Tompkins Rivas, and Jan Williamson
Contributing artists: Luciana Abait, Scoli Acosta, Carmen Argote, Shagha Ariannia, Deborah Aschheim, Joshua Aster, Karen Atkinson, Katie Bachler, Elena Bajo, Raul Paulino Baltazar, Juliette Bellocq, Leon Benn, Mattia Biagi, Andrea Bowers, Anita Bunn, Kristin Calabrese, Carolyn Castaño, Audrey Chan, York Chang, Angel Chen, Ross Chisholm, Helen Chung, Dorit Cypis, Wanda Decca, Sam Durant, Julia Dzwonkoski & Kye Potter, David Earle, Jonmarc Edwards, Patricia Fernandez, Cayetano Ferrer, Samantha Fields, Frances Garretson, Christiane Georgi, Chiara Giovando, Alexandra Grant, Audra Graziano, Mark Steven Greenfield, Sherin Guirguis, Nathalie Harvey, Deborah Hede, David Hendren, Roger Herman, Katie Herzog, Violet Hopkins, Jeanette Horn, Bettina Hubby, Salomón Huerta, Aska Irie, Ichiro Irie, Charles Irvin, Vishal Jugdeo, Siri Kaur, Francisco Larios, Jim Lee, Nery Gabriel Lemus, Mark Licari, Galia Linn, Kristi Lippire, Mara Lonner, Richard Louderback, Ben Love, Elana Mann, Anna Mayer, Yassi Mazandi, Rebeca Mendez, Maggie Miller, John Mills, Dave Muller, Warren Neidich, Karyl Newman, Larissa Nickel, Christine Nguyen, John David O'Brien, Alison O'Daniel, Mary Eileen O'Donnell, Christina Ondrus, Cathy Opie, Stas Orlavski, Nate Page, Laura Pardini, Renee Petropoulos, Mary Anna Pomonis, Lauralee Pope, Gala Porras Kim, Max Presneill, Cindy Rehm, Steve Roden, Jeanne Roderick, Yvette Roman, Dan Rothenberg, Trinidad Ruiz, Robert Russell, Aaron Sandnes, Amy Sarkisian, Kim Schoen, Kim Schoenstadt, Pauline Shaw, Becca Shewmake, Catherine Shores, Marie Thibeault, David Tomb, Elizabeth Tremante, Shirley Tse, Patssi Valdez, Florian Viel, Leora Wien, Sarah Williams, Peter Wu, Florian Viel, Pae White, Meital Yaniv, Jody Zellen, Alexis Zoto and many more.
Temporary Residence with Craftswoman House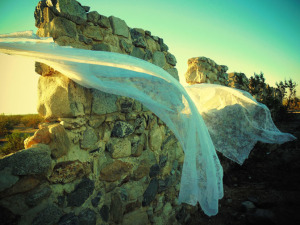 Larissa Nickel and Craftswoman House are engaged in a Temporary Residence project dedicated to fostering a dialogue on feminist issues through projects and exhibitions. An advocate for the hidden and overlooked history of the Antelope Valley which she discovered as an employee at the Western Hotel Museum, Nickel engaged and honored the legacy of the early feminist architect of the Llano del Rio colony, Alice Constance Austin, whose 1935 book "The Next Step: How to Plan for Beauty, Comfort, and Peace with Great Savings Effected by the Reduction of Waste" articulated an artistic vision and design of life in a feminist, socialist city. Inspired by Ebenezer Howard's garden city and the feminist influence of Charlotte Perkins Gilman, Austin created designs for communal eating and day-care areas, minimized interior decorations with built in furniture to alleviate housework, and even proposed an underground railway to ferry laundry, household waste, and supplies.
In a cooperation with Nickel's Hinterculture arts collaboration, the Craftswoman House expedition continues to encourage artists, dancers, engineers, musicians, scientists, writers, scholars, architects, performers, designers, urban planners, archaeologists, socialists, and activists to join in on the temporary residence at the Llano del Rio colony site in preparation for new works to be shared.
DEHSART Receives Grant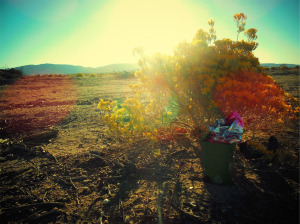 DEHSART >> trashed spelled backwards << is an eco-art project that builds awareness, support and engagement to educate and transform illegal dumping activity through community action, art interventions and mapping. The project has been generously funded by a grant from the Antelope Valley Illegal Dumping Task Force, made possible by LA County Supervisor Michael D. Antonovich's Antelope Valley Office, Waste Management, the City of Lancaster, the City of Palmdale, Lockheed Martin, and citizens like you.
Launched by Larissa Nickel and Karyl Newman, DEHSART combines prevention, awareness and outreach through artistic engagement and environmental education surrounding the issue of illegal dumping in the High Desert. Cultivating social connections, collective action, and civic empowerment our goal is to help transform our landscape through small interventions of public art that will tell a story of environmental resources and inspire change in our ecosystem.
Drugstore Beetle (Sitodrepa Paniceum) II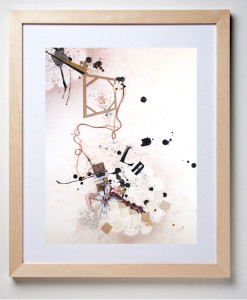 Exhibition Dates: January 28, 2013 – April 14, 2013
Drugstore Beetle II organized by David Horvitz, is offered as a part of educational programming for the exhibition , organized by students of the Museum Studies Program at the University Art Museum (UAM), California State University Long Beach (CSULB). This folio of artworks will be available for viewing in CSULB's Special Collection Library for the duration of the exhibition. Drugstore Beetle II is also a digital project, in keeping with the shift of libraries to digital archives; an archive will also be made of all of the works submitted. The digital versions of artworks will be published on the project's website, social media outlets, and potentially displayed on video monitors in the campus library.
4<40: Four Antelope Valley Artists under Forty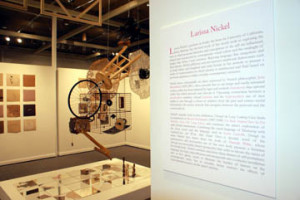 Lancaster Museum of Art and History, Lancaster, CA
The 4<40 exhibition presents the works of four artists under the age of 40 who are living and creating artwork in the Antelope Valley. The exhibition represents a sampling of the variety of traditional and new media work being created by young and emerging artists and includes artwork by Sarah Donaldson, Larissa Nickel, Nicolas Shake and Laurel Jean Siler. Vigorous and sometimes confrontational, these artists challenge the viewer to actively engage and decipher meaning. Each artist brings their formal art education and background to bear on works that represent a youthful current in the artistic output of the Antelope Valley.